Walmart Local Marketplace Customer Support
keyboard_arrow_left
keyboard_arrow_right
Getting started
Help with an order
Accounts and payments
Picking up your order
After placing your pickup order, we send it to the local seller to review and accept your order. Check the in-app statuses for confirmation that the seller has accepted your order, and that they have started preparing it.
The order status screen will provide an estimate for when your order will be ready and when you should aim to arrive at the store.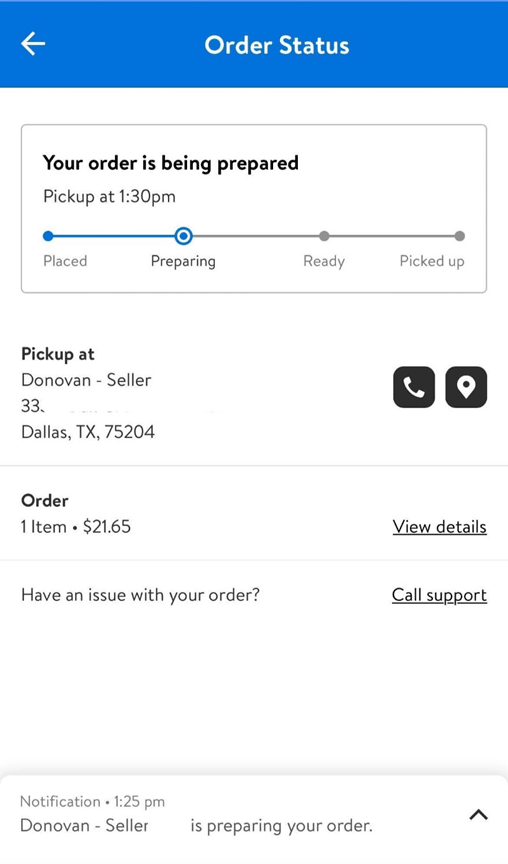 Once you've picked up your order, you can mark it as picked up in-app.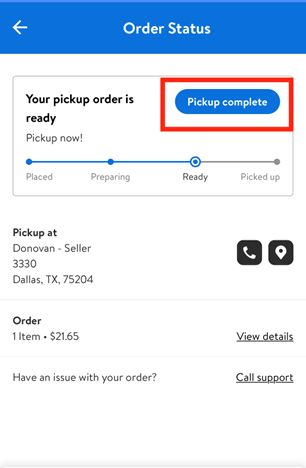 Delivery of your order

We partner with third-party drivers to bring your order right to your door. At checkout you can select whether you want your order left at your door, or whether you want to sign for your order.
If you select that you'd like to sign for your order, please ensure you are available during your selected delivery window. Otherwise your order may be returned to the store and you may incur a charge.
The in-app order statuses will let you know when the local seller has confirmed and begun preparing your order, when a driver is on the way, when your driver is nearby and when your driver has dropped off your order.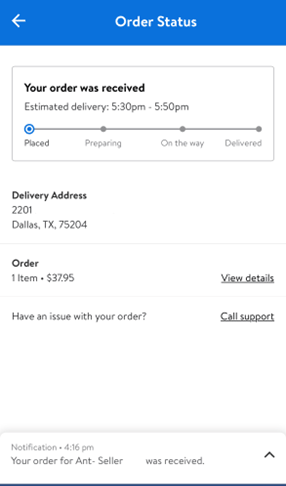 We partner with third-party drivers to bring your order right to your door. Deliveries for Walmart Local Marketplace are fulfilled by drivers on the Spark Driver platform.
To help maintain a positive experience for sellers, drivers, and customers, and ensure orders are delivered correctly, the Spark Driver platform outlines Service Level Standards that cover professionalism, reliability, and safety.
The Spark Driver platform also provides drivers visibility into four key metrics to help with meeting the Service Level Standards: On-Time Arrival, Drop Order Rate, Acceptance Rate and Customer Rating. For more information visit Spark Driver Service Level Standards Metrics.